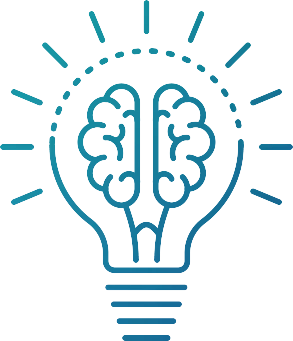 The trend setting think tank for business innovation.
From seemingly small ideas grow significant innovations that can change the way entire companies and lives operate. We stimulate think tanks with our formative and unique activities, creating processes that trigger radical change.
Change instead of development
In our approach, the appropriate response to challenges is to focus on the problem and make a precise and radical change, rather than constantly "patching and unpatching". In the spirit of innovation, we update the structure, content, topics and methodology of our training courses at least every six months, based on feedback.
ROI calculator
Our cooperation is based on the pillars of measurability and return on investment. This is why we formulate guarantee and accountability KPIs for our development solutions.
An insight into our projects so far:
the aggregated return on investment
7.6 times in the first 12 months.
Going one step further, we'd like to put the results of our sales experience to work: with our ROI calculator, you can calculate the expected return on investment for your sales team.
Expected return
Calculate the expected return on investment for developing your sales team!
The development is expected to have a revenue-enhancing effect:
The expected profit-increasing effect of the development is:
Expected cost of the development:
Expected increase in operating profit:
The return on investment is expected to be several times higher in the first 12 months: